FROM BBC
Chris Cornell's death is being investigated as a possible suicide, Detroit Police have told the BBC.
The singer died at the age of 52 after a concert in Detroit on Wednesday evening, his representatives announced.
In a statement, Cornell's representative Brian Bumbery said his death was "sudden and unexpected".
It also said the family would be working closely with the medical examiner to determine the cause and asked for privacy.
Cornell died shortly after playing a concert with Soundgarden in Detroit on Wednesday evening.
A spokesperson for Detroit Police confirmed to the BBC that they received a call just after midnight (05:00 BST).
"He was found on the bathroom floor, our medical unit were called and he was pronounced dead on scene," a spokesperson said.
"A family friend went to go check on him and observed him on the bathroom floor. The body was transferred to the medical examiner's office and the cause of death will be determined.
"It is being investigated as a possible suicide."
So much more than a grunge star
Stars pay tribute
Full coverage from Music News Live
The show was part of a wider tour and the group had a number of live dates scheduled for later this month.
Sir Elton John led the tributes, tweeting: "Shocked and saddened by the sudden death of @chriscornell. A great singer, songwriter and the loveliest man."
Led Zeppelin guitarist Jimmy Page added: "RIP Chris Cornell. Incredibly talented, incredibly young, incredibly missed."
BBC 6 Music's Matt Everitt said he was taken aback by Cornell's death.
"This is a hell of a shock, he'd been gigging frequently despite having a life that was quite extreme, and he was certainly in extremely good health, performing concerts and seemingly pretty much at the top of his game," he said.
Cornell was born on 20 July, 1964.
As a solo artist, he released four studio albums – most recently 2015's Higher Truth.
His biggest single in the UK was 2006's You Know My Name, which was the theme song to Casino Royale, which starred Daniel Craig.
2006 interview with Chris Cornell on his Bond theme
The track made him the first male American artist to write and perform the theme song for a James Bond movie.
But he was perhaps most famous as the lead singer of Seattle band Soundgarden, which formed in 1984 and went on to release six studio albums.
Last year, the band confirmed they were returning to the studio to record new material and a tour was announced for this year.
On Wednesday evening, the Fox Theatre in Detroit tweeted pictures of the band while they were live on stage.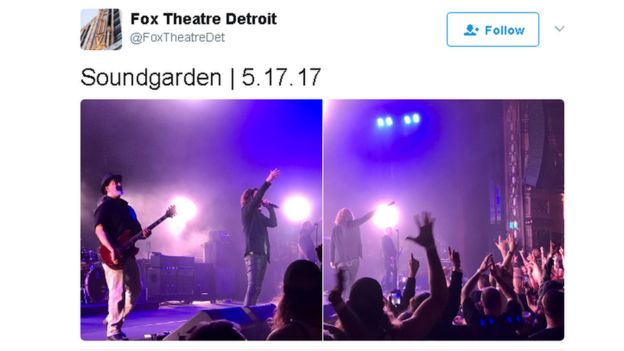 Cornell himself tweeted about the show on Wednesday evening, writing: "Finally back to Rock City!"
Soundgarden's most successful album in the UK was 1994's Superunknown, which reached number four in the chart.
In 2001, he joined rock supergroup Audioslave, which consisted of Cornell on lead vocals, together with Rage Against The Machine members Tom Morello, Tim Commerford and Brad Wilk (drums).
The group released three albums – all of which reached the top 20 in the UK – but disbanded in 2007.
---
FROM www.nytimes.com Chris Cornell, the powerful, dynamic singer whose band Soundgarden was one of the architects of grunge music, has died at 52.
Mr. Cornell died Wednesday night in Detroit, his representative, Brian Bumbery, said in a statement that called the death "sudden and unexpected" and that said the singer's family would be "working closely with the medical examiner to determine the cause."
Dontae Freeman, a spokesman for the Detroit Police Department, said in an interview that officers responded around midnight at the MGM Grand casino to an apparent suicide of a white man, born July 20, 1964, who was pronounced dead on the scene. He would not confirm the victim's name; Mr. Cornell's date of birth is July 20, 1964.
Mr. Freeman said that the victim's wife had called a family friend to check on the man; the family friend forced his way into the man's room at the casino and found him unresponsive on the bathroom floor.
The victim was found with a band around his neck, Mr. Freeman said. The police would not confirm that the victim died of a suicide, though the preliminary determination was an "apparent suicide," Mr. Freeman said. He added that more details would be released in a statement later Thursday.
Mr. Cornell was born in 1964 in Seattle and helped form Soundgarden 20 years later. Sub Pop, then a fledgling record label, released the group's first single, "Hunted Down," in 1987, as well as two subsequent EPs. The group's debut album, "Ultramega OK," came a year later.
"Badmotorfinger," released in 1991, benefited from the swell of attention that was beginning to surround the Seattle scene, where Soundgarden, along with Nirvana and Pearl Jam, were playing a high-octane, high-angst brand of rock 'n' roll. Soundgarden's musical journeys tended toward the knotty and dark, plunging into off-kilter meters and punctuated by Mr. Cornell's voice, which could quickly shift from a soulful howl to a gritty growl.
Three of Soundgarden's studio albums have been certified platinum, including "Superunknown," from 1994, which featured "Black Hole Sun," "Fell on Black Days," "Spoonman" and "My Wave."
The group — which includes the guitarist Kim Thayil, the bassist Ben Shepherd and the drummer Matt Cameron — disbanded in 1997, but it reunited in 2010 and has performed regularly since then. In a review of a 2011 concert at the Prudential Center in Newark, The New York Times's chief pop critic, Jon Pareles, called Soundgarden "one reunited band that can pick up right where it left off." In 2012, it released "King Animal," its first album in 16 years, which Mr. Pareles said "sounds like four musicians live in a room, making music that clenches and unclenches like a fist."
The group played at the Fox Theater in Detroit on Wednesday night, and it had been scheduled to perform in Columbus, Ohio, on Friday at the Rock on the Range festival.
Mr. Cornell appeared to be active on social media in the hours before his death. A post on his Twitter account on Wednesday announced that the group had arrived in Detroit, and a clip of the group's 2012 release "By Crooked Steps" was posted to his official Facebook page hours before his death.
Mr. Cornell had acknowledged in interviews to struggling with drug use throughout his life. In a 1994 Rolling Stone article, he described himself as a "daily drug user at 13" who had quit by the time he turned 14.
After Soundgarden disbanded in 1997, Mr. Cornell returned to heavy drug use, he told The Guardian in a 2009 interview, describing himself as a "pioneer" in the abuse of the opiate OxyContin, and saying that he had gone to rehab.
Mr. Cornell released five solo albums during and after his time with Soundgarden, starting with the 1999 LP "Euphoria Morning." His 2007 album "Carry On" featured an acoustic cover of Michael Jackson's "Billie Jean" that served as the inspiration for a well-received version of the song on "American Idol." He contributed the song "Seasons" to the soundtrack of "Singles," Cameron Crowe's love letter to the Seattle music scene, and performed alongside other members of Soundgarden in the film.
In 2001, after Rage Against the Machine's lead singer, Zack de la Rocha, left the group, Mr. Cornell and members of the band formed Audioslave. The group released three albums before announcing its split in 2007.
In November 2016, Mr. Cornell hit the road for the first time with another supergroup of sorts, Temple of the Dog, featuring a blend of members of Soundgarden and Pearl Jam. The group was formed a quarter-century ago as a tribute to Andrew Wood, the lead singer of the Seattle bands Malfunkshun and Mother Love Bone, who died of a heroin overdose in March 1990.
Speaking to The Times, Mr. Cornell said the group had decided to finally bring its songs to life to honor Mr. Wood. "I thought, well, this is one thing that I can do to remind myself and maybe other people of who this guy is and was and keep his story and in a way his life with us," he said.
---
FROM http://www.independent.co.uk
Chris Cornell – the lead singer of Soundgarden and Audioslave – died Wednesday night in Detroit aged 52, according to his representative.
In a statement issued to The Associated Press, Brian Bumbery called death was called "sudden and unexpected".
Detroit Police are reportedly investigating the death as a 'possible suicide', though it's too early to determine how the singer died.
Michael Woody, a spokesman for the Detroit Police Department, said Cornell's body was found unresponsive in his hotel room.
"When the units arrived they were met by a gentleman who indicated that Chris Cornell had been found in his room," he said.
"When officers went to the room they found Chris Cornell laying in his bathroom, unresponsive and he had passed away. We are investigating it as a possible suicide but we need to wait on the medical examiner to determine the cause and manner of death."
Remembering Chris Cornell (1964 – 2017)
Officers reportedly received a 911 call requesting assistance from an unnamed person at the MGM Grand Casino in downtown Detroit. Cornell was pronounced dead on scene.
The singer's family have asked for privacy while they work with a medical examiner to determine the cause. Tributes to Cornell have flooded social media, paying respect, Aerosmith guitarist Joe Perry calling it "A sad loss of a great talent to the world".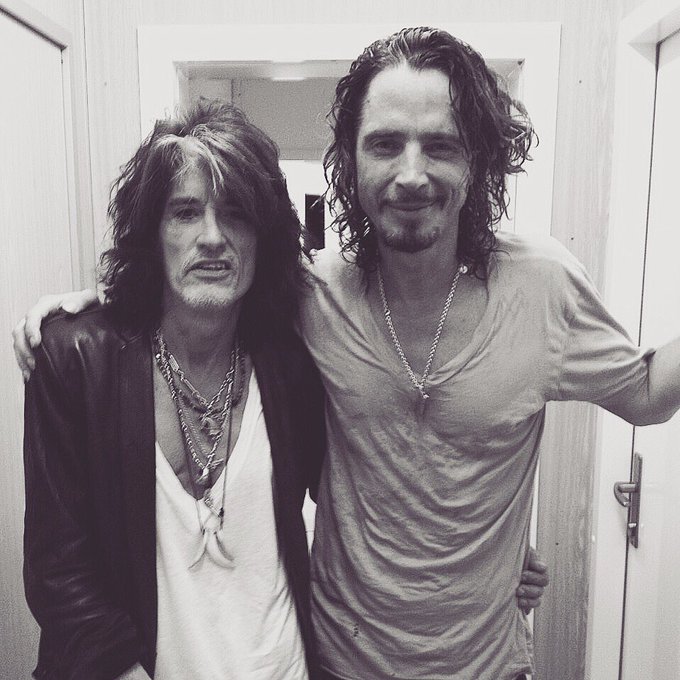 Cornell was best known for fronting the two iconic bands and singing 'You Know My Name', the theme song for James Bond film Casino Royale. He was scheduled to play the US festival Rock the Range in Columbus tonight.
He was reportedly performing with Soundgarden gig last night at Detroit's Fox Theatre, part of the band's North American headline tour. Pictures have emerged on Twitter from the concert.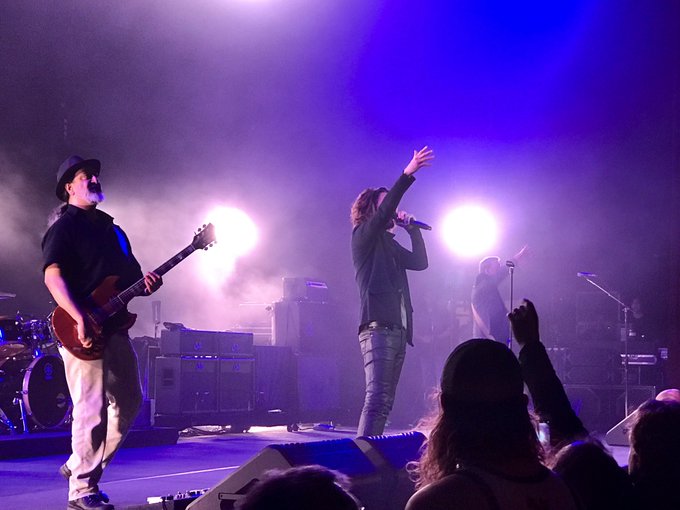 Born and raised in Seattle, Washington, Cornell was one of the chief architects of the grunge movement, forming Soundgarden alongside guitarist Kim Thyail and bassist Hiro Yamamoto in 1984.
Soundgarden were famously the first grunge band to sign to a major label (A&M in 1988), paving the way for the likes of Nirvana, Pearl Jam and Alice in Chains to break out.
After initially breaking up, Cornell formed Audioslave with Rage Against The Machine's Tom Morello, Tim Commerford and Brad Wilk. Cornell left the supergroup in 2007 to concentrate on solo material before regrouping with Soundgarden in 2010.
Last year, Cornell spoke about how playing acoustically has tied together his entire career. "In some strange way, it's made sense of my 30-odd years of songwriting," he told The Independent.
"All the different bands and solo projects and everything in-between are all so varied and eclectic. I wanted to string all that together somehow in an acoustic show and I think it's the first time that it can all be in one show and make sense."
Cornell struggled with drug and alcohol addiction for many years, checking into rehab in 2003. Speaking to Spin at the time, he said: "I actually like rehab a lot. It's like school; it's interesting. I'm learning that I can be teachable at age 38.
"I would sometimes drink before we played. It wasn't a big deal. It became a bigger deal when I stopped doing the other things I liked to do."
In 2012, Cornell — along with wife Vicky — created The Chris & Vicky Cornell Foundation that works with vulnerable children, based on their personal experiences as children.
---
CNN)Chris Cornell, lead singer of Soundgarden and Audioslave, died Wednesday night after performing in Detroit, his representative told CNN.
Cornell's death, at age 52, is being investigated as a "possible suicide," a spokesman for the Detroit Police Department told CNN.
A family friend called 911 around midnight Thursday after he went to check on Cornell and found the musician "unresponsive" on the bathroom floor at the MGM Grand hotel, spokesman Michael Woody said. Emergency medical personnel arrived, and Cornell was pronounced dead at the scene, he said.
"We are moving in the direction of a possible suicide but we are waiting on the Medical Examiner's Office to provide their report," Woody said.
Cornell was in Detroit performing with Soundgarden on a US tour that kicked off last month. His passing was "sudden and unexpected," his representative, Brian Bumbery, said in a statement to CNN.
"His wife Vicky and family were shocked to learn of his sudden and unexpected passing, and they will be working closely with the medical examiner to determine the cause," the statement read. "They would like to thank his fans for their continuous love and loyalty and ask that their privacy be respected at this time."
The Grammy-winning rocker had performed Wednesday night at the Fox Theatre in Detroit. He ended his performance with a cover of Led Zeppelin's "In My Time of Dying."
"Full set with an encore. Nothing odd. Outstanding performance," Bill Lowe of Port Clinton, Ohio, said, describing the show in a text message to CNN.
The grunge era
Cornell began his career in the Seattle rock scene. In 1984, he formed the band Soundgarden, which was influential in the 1990s grunge movement.
In death, Cornell becomes another in a line of lead singers from major grunge rock bands to pass away. Nirvana's Kurt Cobain was found dead in his Seattle home in 1994; his death was ruled a suicide. Alice in Chains' original singer, Layne Staley, died from a drug overdose in 2002. Scott Weiland of Stone Temple Pilots died of an accidental overdose in 2015.
In interviews, Cornell discussed his past struggles with alcohol and the impact of his friends' deaths from substance abuse.
"I've lost a lot of young, brilliant friends, people that I thought were very inspired," he told Rolling Stone in 2015. "They're all young and these guys all had limitless potential in their lives in front of them."
Soundgarden and Audioslave
Soundgarden predated both grunge pioneers Nirvana and Pearl Jam, but it wasn't an overnight success.
The group hit its commercial peak with its breakout album, "Superunknown," in 1994, which was nominated for a Grammy Award for best rock album. A hit song from that album, "Black Hole Sun," won the Grammy that year for best hard rock performance, and the song "Spoonman" won for best metal performance.
The group disbanded in 1997 and released a greatest hits compilation the same year.
The breakup wasn't anything unusual, Cornell told CNN in 2012. "It was just time for a break," he said.
In 2001, Cornell joined with three former members of Rage Against the Machine to form Audioslave. Their most successful single, "Like a Stone," released in 2003.
The group's defining moment was a 2005 concert in Cuba, which at the time was billed as the country's first outdoor rock concert by an American band.
As the charismatic frontman, Cornell was known for his raw and soulful voice.
He also sang the theme song to the James Bond movie "Casino Royale" and released five solo albums
Remembering the rock star
Soundgarden came back on stage in 2010 for festival performances and had recently started touring again. The band tweeted Wednesday night a quote from Cornell: "What I look forward to the most…is the camaraderie. It's what we missed when we weren't a band."
Rocker Dave Navarro mourned the loss of Cornell, tweeting: "Such a terrible and sad loss! Thinking of his family tonight! RIP."
Cornell said he offered minimal explanation for his songs because he wanted fans to come up with their own meanings.
"If I write a song and put it out there, it's not mine anymore," he told CNN. "It takes on a life of its own, and when you listen to it, it becomes your song. And over the course of generations, those meanings will change."